Monan Gozzett LLP are proud to be Affiliate Members of The Society of Later Life Advisors (SOLLA), which can help you and your family find trusted and accredited financial advisors.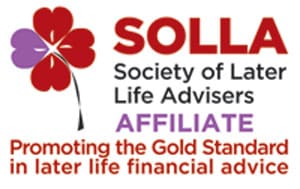 SOLLA are a not-for-profit organisation and SOLLA Later Life Advisors are specialists in understanding the plans you need to make for your retirement years. They are dedicated to accessibility to regulated financial advice for older people, re-accrediting every 5 years to ensure that they maintain their high standards and up to date knowledge. This accreditation has now become established as the "Gold Standard" for those advising on later life financial planning.
The key values of SOLLA are reflected in those of Monan Gozzett LLP and as Affiliate Members, we support SOLLA and their aims. We work closely with SOLLA Later Life Advisors to ensure that you receive expert legal and financial advice when making plans for your retirement and later life.
If you are interested in seeking financial advice from a SOLLA Later Life Advisor, please contact Stephen Sampson, Head of Private Client or visit the SOLLA website (https://societyoflaterlifeadvisers.co.uk/) which has a handy "Find an adviser" tool.
---
Do you have any questions about the subjects raised in this blog? Feel free to fill in the form below and we will do our best to reply to you:
---
If you would like to speak to our expert legal team about this, or any related subject then please contact our team by phone on 0207 936 6329, Email or by completing our Quick Contact Form below.